Third or forth time running this race but first time running with my family and I had a blast. Scott got our packets at Navy Pier which had an expo. This might sound cool (and is cool if it is your first big race) but I am personally not a fan of paying for parking to packet pickup ($11) and having to make it an event to get my packet
Our corral closed at 8:20 and we were meeting Crush people at 7:45 so we rolled into the millennium parking garage at 7:40. The timing was perfect but it was at a cost as the parking was $30! A small tip: public trans is great for those that can get there easily or if you want to save money, you can park further away and walk. If i do the race next year, i will probably continue to pay for the expensive and convenient parking and still complain about it.
Repping Rev3Tri
The corrals and gear check are well organized to accommodate the staggered starts (there are ~40K runners). We were in the D corral which was the slowest of the first wave. We got to the corral, took a few selfies and we were off.
Josh and I came up with a strategy with the following goals
1. Run up to 4 miles and then we could walk/run to finish as this was the longest he has done. We did say we could walk through the aid stations and take our time through them.
2. Don't go out too fast
3. No crying.. by him... and me
4. Always try to stay near Scott or I and in the small chance we lose each other, meet at the end of the finish line and stay on the right side so we could find each other.
Once we got going, we settled into a nice 10 minute mile pace. Josh seemed to be doing well and Scott, J and I ran together. The course is very scenic and I have always described it as a mini - Chicago Marathon loop. Although it isn't quite that, it reminds me of the course and gives off similar energy.
Very few times are you able to run down the streets of downtown Chicago with no cars.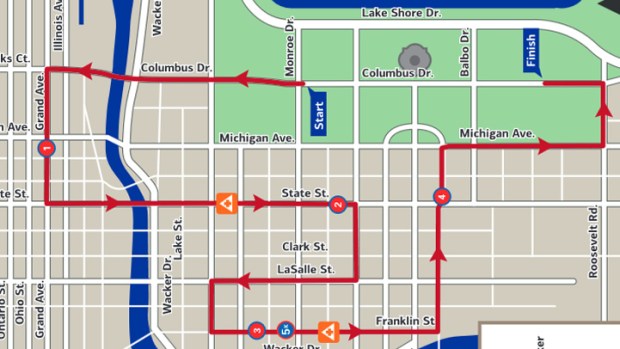 We hit the first aid station on State (before mile 2) and we walked for maybe a minute. Josh took in some Gatorade and seemed ready to start running again so we were off. At that point, we said we would walk through one more aid station and then if he wanted to walk, we would after we passed mile 4. He agreed and continued on. He said that he wanted to conserve his energy and didn't want to talk to us but we could tell him he was doing a good job .. HA! The course winds through the loop and around mile 3, he asked where the next aid station was, we approached that quickly and walked through slowly; taking in gatorade and water. After that, we made the turn east back towards Jackson Park and saw mile 4. At this point, i leaned over and told josh we could walk after that... BUT, he proceeded to pick up the pace. I later found out he thought he was approaching the finish as there was a large inflatable straight ahead and he thought that was the finish line.
At that point, we still probably had 3/4 of a mile and he continued to pick up the pace. I thought he would burn out at some point but he kept pumping through and charged up "Mt. Roosevelt". Him and Scott dusted me right before the hill and then Josh sprinted towards the finish with Scott keeping on his toes to catch up. We figured that their last mile was around 8:30. Crossed a minute after them.
Post race refreshments included bottled water, Mariano's snacks (including pretzels, sunchips and a cinnamon bar) and a beer ticket that we didn't use. The post race party had vendors with food for sale and a band. There was lots of mingling going on as the beer tents were there. After we got our gear from gear check, we made our way back to our car. Josh had already gulped down two bags of pretzels and was pestering me to look up his time. I was really proud that he pushed it and loved to see him feel accomplished as well.
Overall, this is a quintessential Chicago race that allows even the casual runner to experience a big city race event! This race is big so be prepared to spend ample time getting to the start, waiting and dealing with traffic if it is your first time.